There's no place like home—and good thing, because it's hard enough dealing with just one of them. The dream life after college varies among students, but these dreams often have one goal in common: never live with parents again. Study results vary, but anywhere from a mere 20-47% of graduates actually achieve this goal right away, hence why we have been dubbed "Boomerang Kids" and "The Lost Generation."
After having lived on campus and away from home, many students struggle with moving back in with their family, whether just for the summer or for who-knows-how-long after graduation. They might have to share a car or deal with the fact that what was once their bedroom is now the guest room. They might have to take care of pets and siblings. They might have to pay attention to how many possibly-inappropriate "That's what she said" jokes they make (or maybe that's just me). They might have to participate in housekeeping that goes beyond the fend-for-yourself methods that worked with roommates. They might have to actually have pants on as they walk around the house.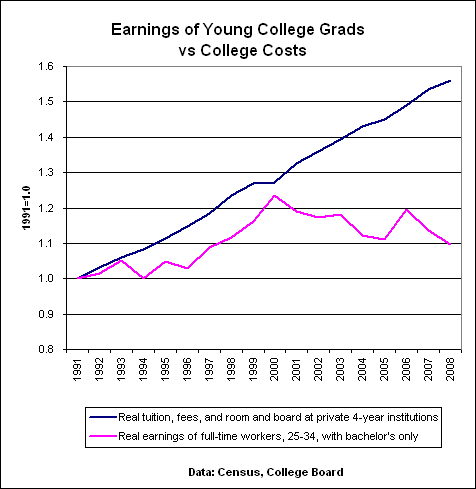 There are good things about moving back home too, though. Most students won't have to buy their own groceries, don't have to pay rent (though there are plenty who do), and won't have to live with roommates anymore. The opportunity to save money is often enough incentive to make the big move back to the mothership.
Whatever your at-home responsibilities include, family life can often get frustrating and can affect your feelings towards the people you love. The sense of independence that you gained in college might start to feel restricted by watchful eyes of a parent, guardian, or even siblings. When you move back home, how can you make sure both you and your parents keep your sanity?
Of course, our parents aren't all the same, and these guidelines won't work with everyone, but the main point to remember is that compromise is crucial to solving many problems. Let's face it: if you hate moving home, you'd probably only do it if you have to, in which case your parents are doing you a favor. Therefore, you should try to meet them eye-to-eye on issues that concern them (or that they think concern them).
The Problem: You feel weird having friends over.
First, you might want to establish a policy on having friends over (particularly if you want to drink alcohol, do drunken cartwheels, smash bottles, do body shots, etc.). If your parents' guidelines are not something that you agree with, deal with it. Though the people invited might be your trustworthy friends, the location is still not your own and you have to respect the property of others. Find another place to meet up with people, whether someone else's house, a public park, or a bar.
The Problem: Your parents want to set a curfew.
Tell them or leave a note before you go out about when they can expect you back. Be honest about where you are going, and assure them that you will be responsible. If you end up staying out later than expected, call them to let them know. Establish beforehand if a text will suffice (no one ever feels comfortable drunkenly calling the 'rents, but spell check always helps in texts).
The Problem: Your room is now a guest room and feels impersonal.
Explain that you need a place to call home and a room to call your room. Ask them if they wouldn't mind if you personalized your room a little bit. Offer to change it back before you leave (if you ever do!), just as if you were living in an apartment or dorm room.
The Problem: The nagging never stops.
If your parents constantly assign you tasks or complain about what you haven't done, ask them to write a list for you ahead of time. That way, they will get an idea of the number of things they are asking of you and you will have all their requests in one spot so that you don't forget them. This might also enable you to discuss the demands and negotiate them.
The Problem: Your family is simply driving you crazy.
Get out of the house. Rather than spending every minute either at home or with friends (though they can be a great source of sanity), consider getting a job, even if it is not your "dream job" or on the path towards it. In terms of your resumé, future employers would rather see you that you worked anywhere than nowhere. This will also get you out of the house, keep you busy, and maybe even earn you some money so that you can work towards affording your own place (if you're not already being charged rent).
The Problem: You have no money or car and feel trapped in the house.
Again, get a job. Save money. Maybe babysit a neighbor that you don't need a car to drive to or find a person or mode of public transportation that can bring you to your job. Ask your parents for loans, but be sure to respect their contributions,
keep track of them, and pay them back.
The Problem: Your relationship with your parents is deteriorating.
As they grow up, many children start to realize the potential for their parents to be friends as well as guardians. But once parents start to pick up the roles of "Mom" and "Dad" full-time again, it is important to keep the "friend" role going too. Talk to each other about how your days are going, fill your dinnertime with conversation, and hang out—whether that means watching TV or a movie, washing the cars in the driveway, going shopping, exercising, or even just going to the grocery store together. Helping out around the house will help to bring friendliness back into your relationship as well, since it will encourage more of a mutual we-are-in-this-together relationship and less of a predator-prey, all-you-do-is-live-under-my-roof-and-eat-my-food relationship. Personally, I like to set aside time right when I get home from work to do things around the house so that I can get it done and move on.
The Problem: It doesn't look like you will ever get out of there.
Stay positive. Set a potential move-out date, get an idea of where you'd want to move to, do research, and get yourself excited with ideas for your independent home. Also, remember that you are not alone. There are millions of others in the same situation as you, like Sabrina.
Even if you do manage to achieve an orderly parent-child relationship, both you and your parents are probably still looking forward to the day that you move out. Know that it will come, but remember that it will not happen by itself. Work towards it, have patience, keep the peace in the meantime, and residential independence will be in your grasp soon enough.
Carina, New York University. Read my blog and check out my Twitter!
Click here to download the Campus Clipper iTunes App!
Follow Campus Clipper on Twitter or keep current by liking us on Facebook.
Interested in more deals for students? Sign up for our bi-weekly newsletter to get the latest in student discounts and promotions  and follow our Tumblr and Pinterest. For savings on-the-go, download our printable coupon e-book.